Benefits of Breast Revision Surgery Can Be Numerous, Reveal Dallas Plastic Surgeons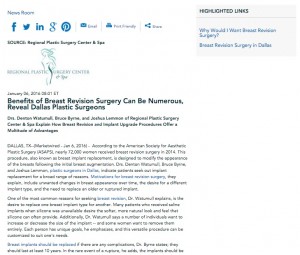 Drs. Denton Watumull, Bruce Byrne, and Joshua Lemmon of Regional Plastic Surgery Center & Spa explain how breast revision and implant upgrade procedures offer a multitude of advantages.
Dallas, TX — According to the American Society for Aesthetic Plastic Surgery (ASAPS), nearly 72,000 women received breast revision surgery in 2014. This procedure, also known as breast implant replacement, is designed to modify the appearance of the breasts following the initial breast augmentation. Drs. Denton Watumull, Bruce Byrne, and Joshua Lemmon, plastic surgeons in Dallas, indicate patients seek out implant replacement for a broad range of reasons. Motivations for breast revision surgery, they explain, include unwanted changes in breast appearance over time, the desire for a different implant type, and the need to replace an older or ruptured implant.
One of the most common reasons for seeking breast revision, Dr. Watumull explains, is the desire to replace one breast implant type for another. Many patients who received saline implants when silicone was unavailable desire the softer, more natural look and feel that silicone can often provide. Additionally, Dr. Watumull says a number of individuals want to increase or decrease the size of the implant—and some women want to remove them entirely. Each person has unique goals, he emphasizes, and this versatile procedure can be customized to suit one's needs.
Breast implants should be replaced if there are any complications, Dr. Byrne states; they should last at least 10 years. In the rare event of a rupture, he adds, the implants should be changed promptly. He encourages patients with silicone implants, in which a tear is harder to detect, to monitor their implants with regular MRIs.
Dr. Lemmon says that sometimes a patient is dissatisfied with the results achieved by another surgeon following the initial breast augmentation. However, he adds, it is more common that women will notice changes in their breast shape and projection over time as a result of the natural aging process. Pregnancy, childbirth, and weight gain or loss can all influence the appearance of the breasts. Dr. Lemmon says the best course of action will be to select a board certified plastic surgeon who can determine the ideal approach for the woman's needs and goals.
About Regional Plastic Surgery Center & Spa
Regional Plastic Surgery Center & Spa has four practice locations across the Dallas, Richardson, Rockwall, and Irving, Texas area. The practice's three plastic and reconstructive surgeons, Dr. Denton Watumull, Dr. Bruce Byrne, and Dr. Joshua Lemmon, are each board certified plastic surgeons and have earned their Certificate of Added Qualification in Surgery of the Hand. Offering a comprehensive range of facial, breast, and body enhancement options, the extensively trained medical team emphasizes a patient-focused approach and the highest quality care possible.
For more information about Regional Plastic Surgery & Spa, please visit create-beauty.com and facebook.com/RegionalPlasticSurgeryCenterSpa.
Contact:
Regional Plastic Surgery Center & Spa
Richardson Office:
3201 E. President George Bush Hwy., Ste. 101
Richardson, TX 75082
(972) 470-5000
Rockwall Office:
1407 Ridge Rd., Ste. 101
Rockwall, TX 75087
(972) 470-1000
Las Colinas:
6750 N. MacArthur Blvd., Ste. 257
Irving, TX 75039
(972) 401-0867
Dallas Office:
12222 North Central Expwy., Ste. 250
Dallas, TX 75243
(972) 470-5000
Rosemont Media
(858) 200-0044
www.rosemontmedia.com