Breast Revision Surgery
At Regional Plastic Surgery Center, we pride ourselves in being able to take on the most difficult breast revision cases with excellent results. One of the factors that have allowed our surgeons to excel is our extensive experience with breast reconstruction after cancer. Our plastic surgeons have a combined experience of over 40 years with reconstructing breasts after cancer. The mastectomy patient represents one of the most difficult problems in plastic surgery.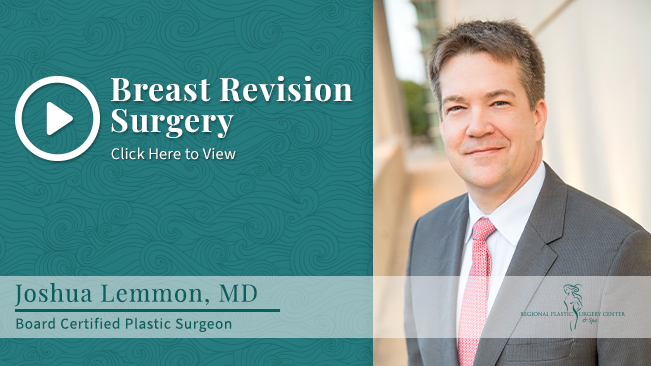 What is Breast Revision Surgery?
Breast revision surgery, also referred to as revision breast surgery, is a follow-up procedure to breast augmentation when a patient wants to improve their results or is not satisfied with the original results. At RPSC our board-certified plastic surgeons often treat patients who are unhappy with their results from another practice, ultimately helping them achieve their aesthetic goals with a secondary procedure. Through breast revision surgery patients can improve their implant appearance or have them completely removed if they chose to do so. Breast revision surgery can prove to be more complex than the original breast augmentation procedure as there is likely a buildup of scar tissue that needs to be repositioned and/or removed.
What Are the Most Common Reasons for Breast Revision Surgery?
There are a variety of reasons for people to seek out breast revision surgery, including exchanging implants, removing implants, implant deflation, and capsular contracture.
Implant Exchange
Patients may utilize revision surgery if they choose to exchange their implants for ones that they feel better suit them. After receiving breast augmentation, patients may want to make adjustments after viewing the final results of their first procedure. After undergoing your original breast augmentation, patients looking for revision surgery will likely have a better idea of what they want and what to expect from breast implants altogether. Our team will hone in on what you are looking to accomplish in the follow-up surgery.
Implant Deflation
Other than wanting to simply replace your implants, patients may experience issues like implant deflation. Implant deflation may occur over time due to natural deterioration of the breast implant material. If an implant begins to deflate, the structure of the breast implant will begin to weaken and visible defects may become apparent. Patients will likely want to reverse this effect through revision surgery.
Capsular Contracture
Capsular contracture can form due to a buildup of scar tissue from the original breast augmentation procedure. Traditional scar tissue is essentially a thin lining, but capsular contracture consists of dense and thick scar tissue. This phenomenon produces unappealing defects on the surface of the breast implants and can be very dissatisfying for patients.
Implant Removal
Regardless of the reasoning, patients who undergo breast augmentation may be displeased with their results. For these cases, breast implant removal may be the best option for fixing their unique concerns. Breast implant removal can be a simple procedure and can produce results that can restore patients' original volume and shape. However, if the original contour and size cannot be restored, patients may seek out a breast lift to remedy their problem.
How Is the Breast Revision Procedure Performed?
Breast revision surgery is generally performed by placing incisions around and often below the areolas, which can sometimes be performed in the same scars as the original augmentation, to allow for optimal access beneath the skin. Each breast implant can then be removed so that the necessary adjustments can be made. If patients are choosing to replace their implants, the surgeon can then insert the desired implant. After all necessary adjustments have been made, the patient's incisions are closed and the recovery process begins. The total procedure usually lasts up to two hours under general anesthesia.
Breast Revision Before & After Photos
Please consider the photos below. This patient had 13 surgeries under the care of a different plastic surgeon and still had very visible scars and asymmetries. The after picture is after only one revision at Regional Plastic Surgery. The scars were corrected, the asymmetry corrected and this was done in only one stage as an outpatient.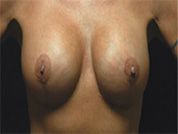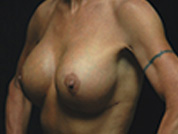 One of our strongest philosophies at RPSC is to avoid a revision in the first place. Accurate primary surgery with careful pre-op planning and meticulous attention to detail in the execution of the first operation is the most ideal situation. We are proud of the fact that among the plastic surgeons at RPSC, our revision rates are less than 2% at 5 years for primary breast augmentation.
However, should a revision be necessary, the key steps are as follows:
Make an accurate diagnosis of the nature of the problem
Set realistic expectations about what can be done
Have a wide range of the newest techniques to address the problem
The patient had saline implants placed over 20 years prior. However, the breast tissue had thinned from the pressure of the implants leaving visible rippling. In addition, the breasts had dropped to a position far lower than the cosmetic ideal. Thinned out breast tissue over breast implants can be one of the most difficult issues to repair in aesthetic breast surgery. In one stage, the patient had the saline implants removed, the pocket of the implant was changed to a submuscular location and a mastopexy was done to lift the nipple and breast tissues at the same time. Notice how much higher the breasts are and the resolution of the rippling. The post-op photos are one year out, demonstrating a durable fix to the problem.
At Regional Plastic Surgery Center, we stand ready and able to handle both straightforward and complicated revision cases.
What Is Recovery from Breast Revision Surgery Like?
Recovery from breast implant revision surgery will vary for each patient, but it is typically longer than the initial breast augmentation. Patients can expect a range of discomfort, typically from mild to moderate pain. Patients are often prescribed pain medication to mitigate their levels of pain and aid in their recovery. Any discomfort, swelling, bruising, and tenderness typically dissipates over the course of several weeks and at most a few months. Daily activities and routines can be resumed within one to two weeks following the procedure, but strenuous exercise should be avoided for at least three weeks.
Schedule Your Breast Revision Consultation
If you want to know more about breast revision surgery or are in need of the procedure, contact our practice today!