Breast Reconstruction Surgery
Losing a breast to cancer or other disease is a life-altering experience. Women afflicted with breast disease undergo tremendous physical and mental stress. In addition to coping with their illness, they must also cope with the drastic change to their appearance. Questions such as how they'll look in clothing or how their partners will react run through their mind. The sensitive, compassionate cosmetic surgery professionals at Regional Plastic Surgery Center can help.
Breast reconstruction surgery gives women who have lost a breast the opportunity to permanently restore their figure. Science and modern technology have provided plastic surgeons with a variety of surgical techniques that can be used to reconstruct the breast. Breast reconstruction surgery allows patients to have a new "breast" that is similar in both form and appearance to the matching natural breast.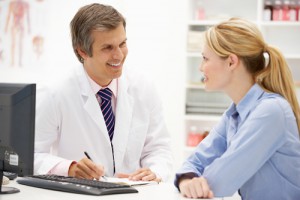 Breast reconstruction is not a simple procedure. The surgery can be extensive and the healing process typically takes several months. For most patients, however, the results are well worth the time, effort, and additional surgery. The board-certified plastic surgeons at Regional Plastic Surgery Center take the time to thoroughly consult with their breast reconstruction patients so patients make the right breast reconstruction choices for themselves.
What Is Breast Reconstruction?
The goal of breast reconstruction surgery is to restore the breasts to their pre-cancerous state, rebuilding their natural shape and size that may have been affected when cancerous tissue was removed. Breast reconstruction surgery can take place as part of the mastectomy surgery or at any time after it. Patients who must undergo a breast removal procedure, including mastectomy, can begin discussing their breast reconstruction options immediately upon diagnosis.
The procedure offers a number of potential benefits, including:
Replenishing shape, size, and volume to the breasts
Restoring a curvaceous, feminine quality to the figure
Improving a woman's self-image
A highly-customizable procedure
At Regional Plastic Surgery Center, our patients are typically extremely happy with the results of their breast reconstruction surgery. In fact, one of our board-certified plastic surgeons, Joshua Lemmon, MD, is renowned specifically for his microsurgical breast reconstructive skills. He and the rest of our exceptional surgeons consider it an honor to help breast cancer patients reclaim their confidence through reconstructive surgery.
What Are My Breast Reconstruction Options?
As a team of leading physicians in the area, our surgeons can employ a number of breast reconstruction methods depending on your needs. We generally use one of the following techniques, though variations can be made to address your particular concerns:
Breast Reconstruction with Tissue Expanders
Sometimes performed simultaneously with a mastectomy, this surgical method incorporates tissue expanders to replenish lost breast tissue. Tissue expanders resemble traditional breast implants, but they are empty upon being placed in the chest wall and removed after the reconstruction is complete. Over the course of a few weeks, your surgeon will gradually fill the expanders with a saline solution. As the expander fills, the surrounding tissue will stretch to accommodate the insertion of a permanent implant. Candidates for this technique often have insufficient skin and tissue to support a permanent implant, thereby requiring an expander.
Like other breast reconstruction techniques, this method involves the usage of surgical drains, which are placed to collect post-operative fluid buildup. When you undergo a breast reconstruction with tissue expanders, you will need two drains on each breast, which are often able to come out within two weeks after surgery.
Breast Reconstruction with Latissimus Dorsi Flaps and Expanders
A latissimus dorsi flap breast reconstruction (also known as a "lat flap") is an example of autologous reconstruction, or the use of a patient's own tissue to reshape the breasts. Women who lack fat and tissue in other areas are often deemed candidates for this method. In a lat flap, the latissimus dorsi flap, an oval-shaped muscle in the upper back, is transferred to the breast, typically through an incision in the underarm. When our surgeons use this method, they usually also include a tissue expander to further reconstruct the breasts. This technique requires a total of six drains: one in each breast and two on each side of the back, the latter of which stay in place for approximately three weeks.
Breast Reconstruction with DIEP Flaps
Another example of autologous reconstruction, a deep inferior epigastric perforator flap (or a "DIEP flap") reconstruction utilizes fat and skin tissue from the lower abdomen to fill out the breasts. The blood vessels supporting the abdominal tissue are meticulously dissected and attached to the chest to encourage healthy blood flow. Candidates for DIEP flap must have sufficient lower abdominal fat or tissue to be used in the procedure. Moreover, many women appreciate the added advantage of lower belly fat removal, comparing this part of the technique to a mini tummy tuck.
A DIEP flap requires the application of three drains in the abdomen, as well as two on each side of the breast, which will come out before you leave the hospital.
What Is Recovery Like After Breast Reconstruction?
The instructions for your breast reconstruction recovery will vary based on the methods utilized during your procedure. For instance, if your surgery included the use of tissue expanders, you will likely be able to return to work after approximately two weeks. Alternatively, those recovering from a lat flap are generally able to return to work after three weeks, whereas those who have undergone a DIEP flap often need four weeks to recuperate. Strenuous exercise (e.g. lifting more than ten pounds) is discouraged for at least four weeks depending on the specifics of your procedure.
Particularly if your surgery involved tissue expanders, you will be instructed not to shower until your drains have been removed. You may also be advised to apply ice to the chest for 15 minutes at a time for the first day after the procedure, and to take ibuprofen four to six hours apart as needed. Light walking is encouraged for patients with tissue expanders, and these patients will be given a venous pump to wear whenever they are not walking. You will not be prescribed a surgical bra, but you will usually be directed to wear a soft bra one to two weeks after surgery.
Before you leave the hospital, you will receive instructions on how to take care of the drains at home. Please call our office at 972-470-5000 if you experience a fever greater than 101F or signs of infection (redness or drainage of pus).
How Much Does Breast Reconstruction Surgery Cost?
Since the Women's Health and Cancer Rights Act was passed in 1998, health insurance companies are required by law to offer coverage for breast reconstruction, such as after breast cancer. While this can help make the procedure more affordable, some plans may only offer partial coverage.
At Regional Plastic Surgery Center, the cost of breast reconstructive surgery is contingent upon a number of factors, including:
The specific surgical techniques utilized
Surgeons' and hospital fees
The addition of tissue expanders/the extent to which they are expanded
Anesthesia fees
Our surgeons understand that breast reconstruction is a very personal procedure that requires a great deal of thought and consideration. In order to make the payment process as stress-free as possible for our patients, we offer a variety of flexible financing options, including CareCredit® and United Medical Credit, two trusted third-party lenders with plans to help eligible patients pay for their care in installments.
For more information about insurance, feel free to explore our breast reconstruction insurance coverage page.
If you are dealing with the loss of a breast and considering breast reconstruction surgery, we can help. Our cosmetic surgery professionals are committed to helping our breast reconstruction patients make decisions that are best for them. Contact our cosmetic surgery offices to confidentially discuss your breast reconstruction options.