Ellacor® Skin Rejuvenation
When a patient wants to rejuvenate their mid-to-lower facial area, cosmetic professionals often recommend a facelift. However, many patients are not quite ready for a facelift and want an alternative that has shorter downtime, less cost, and no surgical incisions. In 2022, Cytrellis® released a potential solution for this concern: the ellacor® System with Micro-Coring™ Technology.
This non-surgical treatment can firm and tighten the lower face, improving cheek wrinkles and early jowl formation without the need for a scalpel or long recovery. More exciting yet, ellacor is the first treatment to employ Micro-Coring™ Technology, a groundbreaking technique that was developed to remove excess skin and address wrinkling in the mid-to-lower face.
At Regional Plastic Surgery Center & Spa, Dr. Denton Watumull and the rest of our team are proud to provide a wide range of cutting-edge options. We invite you to continue reading for more information about the innovative ellacor system.
What Is ellacor®?
While other medical spa procedures (e.g. certain forms of microneedling) utilize radiofrequency or thermal energy to prompt the renewal of cells, the ellacor system's Micro-Coring™ Technology goes a step farther. During a single ellacor session, the system can remove thousands of micro-cores in the skin, encouraging the body to produce new, healthier tissue. In addition, the needles in the device are less than 0.5mm wide, which significantly limits the opportunity for scarring.
Who Is a Candidate for ellacor®?
In general, the ideal candidate for ellacor is a patient who wishes to address mild to moderate wrinkles in the lower part of their face. The procedure is currently approved for patients over 22 years old, and is generally best suited for patients with Fitzpatrick skin types I-IV (note that ellacor has yet to be tested on deeper skin tones).
As ellacor is only the first treatment to employ Micro-Coring™ Technology, many variations of this procedure are likely to be developed in the future. That said, ellacor or similar treatments may one day be approved to treat alternative areas of the body and a wider range of skin types.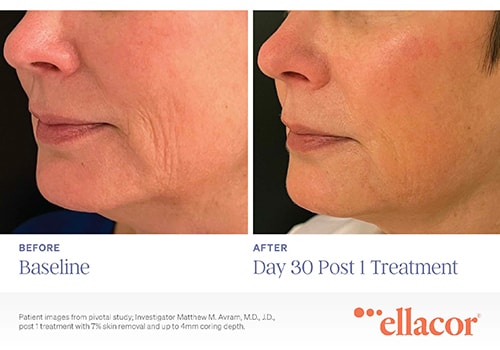 How Is ellacor® Performed?
Prior to your ellacor session, the treatment area is typically numbed with an anesthetic. From there, the procedure involves the application of hollow needles, which are gently administered with a handheld device. The amount of skin being removed, as well as the penetration depth and travel pattern of the needles, can be customized to address the patient's particular aesthetic concerns. The device targets both the epidermal and dermal tissues, precisely removing damaged skin and suctioning it out through the needles. The micro-cores should then self-heal, resulting in a significant yet natural-looking tightening effect and reduction of wrinkles.
For mild cheek wrinkling, one treatment may suffice; for others, we may recommend three ellacor sessions spaced roughly four to six weeks apart. These sessions usually do not exceed 30 minutes in length, and recovery time is often minimal at most. Some patients have reported temporary redness, bruising, burning, and tenderness among other mild complications. Most patients feel presentable after three to eight days. Base or foundation makeup can be used in most cases at four days and full makeup and skin care at eight days.
What Are the Typical Results of ellacor®?
When performed by a knowledgeable plastic surgeon, ellacor can contribute to a significantly more youthful-looking appearance by tightening lax, sagging skin and reducing fine lines and wrinkles.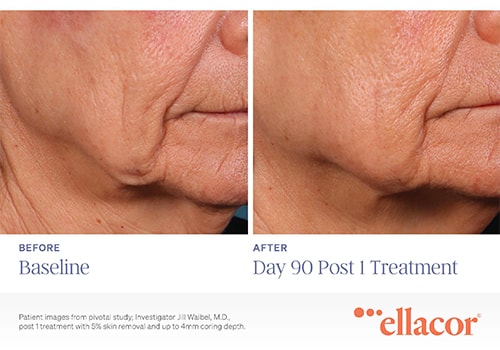 To learn more about ellacor or our other advanced non-surgical options, please contact Regional Plastic Surgery Center & Spa today.