Hand and Wrist Surgery
The Dallas hand surgeons of RSPC Hand Surgery Center, a division of Regional Plastic Surgery Center, treat hands, wrists, arms and elbows. Five of our plastic surgeons also have extensive education, training and experience in hand surgery. Dr. Denton Watumull, Dr. Bruce Byrne, Dr. Joshua Lemmon, Dr. Derek Rapp, and Dr. Chirag Mehta have completed an additional one year fellowship in hand and microvascular surgery training after their plastic surgery residency. Drs. Watumull, Byrne, Lemmon, and Rapp have also attained their Certificate of Added Qualification in Hand Surgery.
The hand surgeons of RPSC Hand Surgery Center comprise one of the largest hand surgery groups in North Texas specializing in surgery of the hand, wrist, and microsurgery. Specialties include nerve compression (carpal tunnel syndrome, cubital tunnel syndrome), damaged nerves, arthritis of the hand and wrist, wrist arthroscopy and minimally invasive upper extremity surgery, hand trauma, broken or crushed bones, compressed joints, and complex upper extremity reconstruction. Additionally, your procedure can be combined with hand rejuvenation for cosmetic purposes.
Endoscopic Carpal Tunnel Release
Endoscopic carpal tunnel release is a less-invasive surgery for carpal tunnel syndrome than open-release surgery. Because only a small incision is needed with the endoscopic technique, you will likely go home the same day and have a faster recovery time. If you are still experiencing pain after all other conservative measures have been taken, your doctor may suggest surgery to help relieve your pain and restore your mobility. An endoscope (a tiny camera) enables the surgeon to see within the space. Your surgeon will use specialized instruments to repair the carpal tunnel surgically. To learn more about carpal tunnel syndrome causes, when to seek help and effective treatment solutions from our hand surgeons, watch the video on our hand and upper extremity website, RegionalHandSurgery.com.
Hand Rejuvenation
Hands tell your age. Hand rejuvenation can be a great way to restore a youthful appearance to the skin on your hands. If you desire to reduce signs of wrinkles, sunspots, age spots, prominent veins, scars, moles, and minor burns, ask us about hand rejuvenation treatment options to renew the appearance of your hands and reveal younger-looking skin.
For more information about hand and upper extremity treatments, visit our website RegionalHandSurgery.com or give us a call to schedule an appointment with one of our hand surgeons at our Richardson location (972) 470-5000, Rockwall (972) 470-1000 or Sherman (903) 893-6311.
Hand Therapy and Rehabilitation, Breast Cancer & Lymphedema Therapy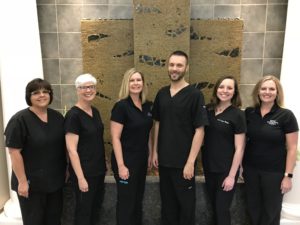 RPSC Hand, Upper Extremity & Breast Cancer Rehabilitation with Director of Hand Therapy, Leigh R. Moore OTR and Certified Hand Therapist, Melissa Peavey, OTR, CHT, and Mallory Hardin, COTA, CLT and Dan Pavlina, COTA at our Richardson and Rockwall locations. Our hand therapists have advanced experience and skills with traumatic, compression injuries and surgeries. They also have advanced skills in custom splinting, use of modalities, kinesiotaping and therapeutic massage.
Mallory is also a Certified Lymphedema Therapist. This certification includes manual lymphatic drainage and complete decongestive therapy. As a CLT at RPSC, her primary focus is with our breast cancer patients.
For more information about hand therapy and our treatment program, visit our website for Hand Therapy or call (972) 470-5005 to schedule an appointment with one of our hand therapists at our Richardson or (972) 470-5010 for our Rockwall location.