Why Would I Want Breast Revision Surgery?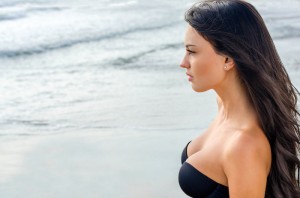 Understandably, most patients prefer not to think about the possibility that they could need a second breast augmentation in their lifetime. However, it's important to familiarize yourself with the reasons for revision breast surgery. Our board certified plastic surgeons, Dr. Denton Watumull, Dr. Bruce Byrne, and Dr. Joshua Lemmon, are extensively experienced in this procedure. While every case is unique, there are usually three main motivations for a second operation.
1. Dissatisfaction with Previous Surgeon's Results
The importance of selecting a qualified, skilled, and board certified plastic surgeon cannot be over-emphasized. If you received breast augmentation from another surgeon and are unhappy with the results, we can help you achieve your desired outcome. We have addressed simple and complex concerns involving size, shape, position, and asymmetry of the breasts. We want to help you obtain your goals as you imagined them.
2. Desire to Upgrade the Implants
Advances in the design, material, and shape of breast implants have made the latest models highly desirable. If you have saline implants and prefer silicone, or if you have round implants and would like to have anatomically shaped cohesive gel implants, we can help you replace your existing pair for new ones that better match your cosmetic ideal.
3. Rupture or End of Implant Lifespan
Although extremely durable, breast implants were not designed to be lifetime devices. Implants should last at least 10 years, possibly 20 or more years. Your implants' lifespan may be longer or shorter depending on your unique factors. If you discover a rupture, however, you should have your implants removed or replaced promptly by a qualified plastic surgeon.
For more information about breast revision surgery, or if you would like to schedule a consultation with one of our skilled plastic surgeons, please contact our office today.