Concierge Service Enhances Breast Augmentation Experience, States Dallas Plastic Surgery Practice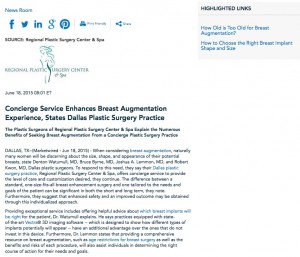 The plastic surgeons of Regional Plastic Surgery Center & Spa explain the numerous benefits of seeking breast augmentation from a concierge plastic surgery practice.
Dallas, TX—When considering breast augmentation, naturally many women will be discerning about the size, shape, and appearance of their potential breasts, state Denton Watumull, MD, Bruce Byrne, MD, Joshua A. Lemmon, MD, and Robert Kwon, MD, Dallas plastic surgeons. To respond to this need, they say their Dallas plastic surgery practice, Regional Plastic Surgery Center & Spa, offers concierge service to provide the level of care and customization desired, they continue. The difference between a standard, one-size-fits-all breast enhancement surgery and one tailored to the needs and goals of the patient can be significant in both the short and long term, they note. Furthermore, they suggest that enhanced safety and an improved outcome may be obtained through this individualized approach.
Providing exceptional service includes offering helpful advice about which breast implants will be right for the patient, Dr. Watumull explains. He says practices equipped with state-of-the-art Vectra® 3D imaging software—which is designed to show how different types of implants potentially will appear—have an additional advantage over the ones that do not invest in this device. Furthermore, Dr. Lemmon states that providing a comprehensive resource on breast augmentation, such as age restrictions for breast surgery as well as the benefits and risks of each procedure, will also assist individuals in determining the right course of action for their needs and goals.
Just as important as surgical technique and innovative technology, Dr. Byrne states, is providing compassionate, convenient assistance at every stage of the procedure, including helping women understand what to expect during breast augmentation recovery. Following all provided instructions can optimize results and reduce the risk of complications, Dr. Byrne adds, and well-informed patients typically will be happier with their results, in part because they comprehend the importance of taking the time to heal and avoiding strenuous activity during recovery.
Ultimately, the Dallas plastic surgeons believe that by providing an informative resource, compassionate care, advanced technology, and other features of concierge service, they can offer patients an enhanced breast augmentation experience from start to finish. They say that while surgeons can provide guidance and advice, the woman must make the final decision, and the more she knows and the greater the number of options from which she can choose, usually the better the outcome will be.
About Regional Plastic Surgery Center & Spa
Led by a four-surgeon team, Regional Plastic Surgery Center & Spa offers state-of-the-art surgical and non-surgical cosmetic enhancement procedures for men and women in the Dallas and Richardson, Texas area. Dr. Denton Watumull, Dr. Bruce Byrne, Dr. Joshua A. Lemmon, and Dr. Robert Kwon, board-certified plastic surgeons, in conjunction with their experienced medical team, seek to provide the safest, most advanced, and most effective customized rejuvenation treatments for the face, breasts, and body at each of their practice locations.
For more information about Regional Plastic Surgery Center & Spa, please visit create-beauty.com.
Contact:
Regional Plastic Surgery Center & Spa
Richardson Office:
3201 E. George Bush Fwy., Ste. 101
Richardson, TX 75082
(972) 470-5000
Rockwall Office:
1407 Ridge Rd., Ste. 101
Rockwall, TX 75087
(972) 470-1000
Las Colinas:
6750 N. MacArthur Blvd., Ste. 257
Irving, TX 75039
(972) 401-0867
Dallas Office:
12222 North Central Expwy., Ste. 250
Dallas, TX 75243
(972) 470-5000
Rosemont Media
(858) 200-0044
www.rosemontmedia.com