Combination Liposuction and Tummy Tuck Offer Enhanced Result, Reveals Dallas Plastic Surgery Practice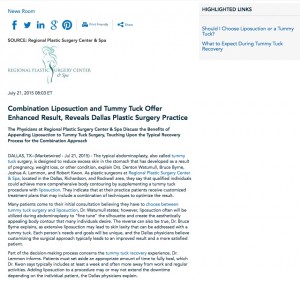 The physicians at Regional Plastic Surgery Center & Spa discuss the benefits of appending liposuction to tummy tuck surgery, touching upon the typical recovery process for the combination approach.
Dallas, TX—The typical abdominoplasty, also called tummy tuck surgery, is designed to reduce excess skin in the stomach that has developed as a result of pregnancy, weight loss, or other condition, explain Drs. Denton Watumull, Bruce Byrne, Joshua A. Lemmon, and Robert Kwon. As plastic surgeons at Regional Plastic Surgery Center & Spa, located in the Dallas, Richardson, and Rockwall area, they say that qualified individuals could achieve more comprehensive body contouring by supplementing a tummy tuck procedure with liposuction. They indicate that at their practice patients receive customized treatment plans that may include a combination of techniques to optimize the result.
Many patients come to their initial consultation believing they have to choose between tummy tuck surgery and liposuction, Dr. Watumull states; however, liposuction often will be utilized during abdominoplasty to "fine tune" the silhouette and create the aesthetically appealing body contour that many individuals desire. The reverse can also be true, Dr. Bruce Byrne explains, as extensive liposuction may lead to skin laxity that can be addressed with a tummy tuck. Each person's needs and goals will be unique, and the Dallas physicians believe customizing the surgical approach typically leads to an improved result and a more satisfied patient.
Part of the decision-making process concerns the tummy tuck recovery experience, Dr. Lemmon informs. Patients must set aside an appropriate amount of time to fully heal, which Dr. Kwon says typically includes at least a week and often more away from work and regular activities. Adding liposuction to a procedure may or may not extend the downtime depending on the individual patient, the Dallas physicians explain.
Ultimately, the physicians at Regional Plastic Surgery Center & Spa believe that by combining abdominoplasty with liposuction they can offer superior results as compared with tummy tuck surgery or liposuction alone. They affirm that personal attention, individualized treatment plans, and achieving the desired outcome are top priorities at their practice.
About Regional Plastic Surgery Center & Spa
Founded by four board certified plastic surgeons, Regional Plastic Surgery Center & Spa serves patients in the Richardson, Las Colinas, Rockwall, and Dallas, Texas area. The state-of-the-art practice features a comprehensive selection of cosmetic enhancement procedures for the face, breasts, body, and skin, including an array of non-surgical rejuvenation options. In addition to Dr. Denton Watumull, Dr. Bruce Byrne, Dr. Joshua A. Lemmon, and Dr. Robert Kwon, the facility is comprised of an experienced medical team dedicated to exceptional patient care.
For more information about Regional Plastic Surgery Center & Spa, please visit create-beauty.com.
Contact:
Regional Plastic Surgery Center & Spa
Richardson Office:
3201 E. George Bush Fwy., Ste. 101
Richardson, TX 75082
(972) 470-5000
Rockwall Office:
1407 Ridge Rd., Ste. 101
Rockwall, TX 75087
(972) 470-1000
Las Colinas:
6750 N. MacArthur Blvd., Ste. 257
Irving, TX 75039
(972) 401-0867
Dallas Office:
12222 North Central Expwy., Ste. 250
Dallas, TX 75243
(972) 470-5000
McKinney Office:
5236 W. University Dr., Suite 2900
McKinney, TX 75071
(972) 470-5000
Rosemont Media
(858) 200-0044
www.rosemontmedia.com