Answers to FAQs About BIA-ALCL Concerns & Breast Implants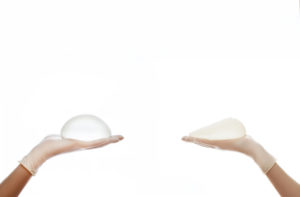 You may have heard some information in the news recently about BIA-ALCL, or Breast Implant-Associated Anaplastic Large Cell Lymphoma, so our board-certified plastic surgeons wanted to provide some information to answer many common questions and concerns:
---
What is BIA-ALCL?
BIA-ALCL is an uncommon lymphoma (a type of cancer) that can develop in the scar tissue that forms around breast implants called the capsule. In most patients, it is slow growing, rarely affects tissues further away, and is curable by removal of the implant and capsule.
As of February 2019, the Food and Drug Administration (FDA) reported 457 unique medical device reports of BIA-ALCL worldwide.
BIA-ALCL has been found in both reconstructive and cosmetic patients with saline or silicone implants, but appears to be associated with patients who have or have previously had textured implants.
The average time from implant insertion to diagnosis is 9.2 years with a range from less than a year to 27 years.
What causes BIA-ALCL?
With so few cases this is a topic of research, but the current theory is that it is caused by an immune response to a bacterial biofilm on textured implants.
What are the symptoms?
The most common symptom is breast enlargement at least a year after implant placement resulting from a buildup of fluid.  This is seen as a noticeable increase in size in the affected breast.
Less common symptoms are pain, lump in the breast or armpit, overlying skin rash, and hardening of the breast.
What should I do if I notice symptoms of BIA-ALCL?
Schedule a follow-up appointment with your treating physician to discuss your symptoms and undergo an initial history and physical exam.
Based on the evaluation, you may require additional imaging/testing.
If BIA-ALCL is suspected, what is the clinical workup for diagnosing or ruling out BIA-ALCL?
Initial clinical exam is performed.
If BIA-ALCL is suspected, then an ultrasound looking for a fluid collection around the implant, a capsular mass, or lymph node swelling is performed.
If a fluid collection is found, then you will likely require sampling of the fluid which will be sent for additional studies.
How is BIA-ALCL treated?
If diagnosis is confirmed, the current National Comprehensive Cancer Network (NCCN) guideline is to have bilateral implant and capsule removal.
Advanced disease may require chemotherapy or radiation.
What should I do if I currently have breast implants?
Continue your routine medical care and follow-up with your primary care provider, with mammography or MRI when appropriate.
The FDA does not currently recommend any additional screening for BIA-ALCL or removal of current breast implants if you do not have any symptoms.
I am considering breast augmentation or breast reconstruction with an implant.  Should I be worried about BIA-ALCL?
You should visit with a board certified plastic and reconstructive surgeon to discuss the various implant choices and the risks and benefits of the different types of breast implants as well as possible alternative surgical choices.
Where can I find more information on BIA-ALCL?
Do you have more questions about breast implants and BIA-ALCL? If so, please contact Regional Plastic Surgery Center to speak with a knowledgeable member of our team or schedule an appointment with one of our experienced, board-certified plastic surgeons.
UPDATE: Allergan, a medical device and breast implant manufacturer, has voluntarily recalled its BioCell textured breast implants and tissue expanders worldwide. This action took place in July of 2019.