Can I Have Tummy Tuck Surgery Before Having Children?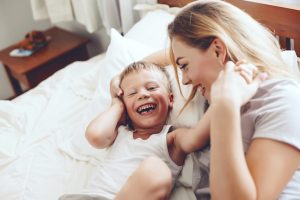 A tummy tuck (abdominoplasty) is designed to eliminate excess abdominal skin and tighten the underlying muscles. Since many women stretch or tear these muscles during pregnancy, tummy tuck surgery is popular with patients who have had children and want to regain their pre-pregnancy figure. For the best chance of maintaining your results, our plastic surgeons recommend waiting until you have had all of the children you are planning before undergoing abdominoplasty. However, if you become pregnant after your tummy tuck surgery, you and the baby should still be perfectly safe.
The main risk of becoming pregnant after tummy tuck surgery is compromising the results of your abdominoplasty – not the pregnancy. A pregnancy after tummy tuck surgery could potentially stretch the abdominal skin and muscles again, and lead to the accumulation of stubborn fat deposits. However, for patients with tummy tuck results that have been compromised due to a future pregnancy, a follow-up procedure can often tighten, tone, and repair the abdominal region once again.
To schedule a consultation with one of our plastic surgeons at Regional Plastic Surgery Center & Spa, please contact us today.