Spring Beauty Event, April 16, 2015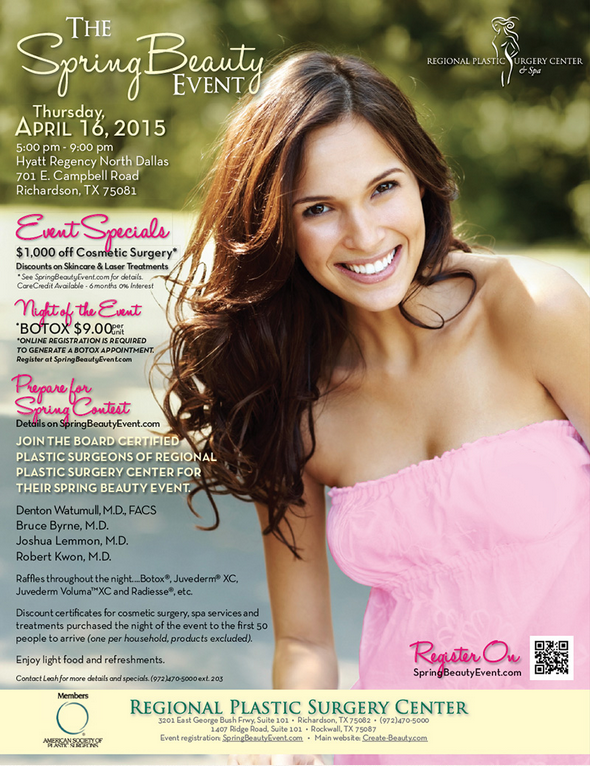 Join the board certified plastic surgeons of Regional Plastic Surgery Center and the skincare and laser specialists of Regional Skin & Laser Center for their Spring Beauty Event on Thursday, April 16, 5:00-9:00 pm. at the Hyatt Regency North Dallas in Richardson, TX. Register for the event and see more details at SpringBeautyEvent.com
$1,000 off cosmetic surgery discount with a board certified plastic surgeon is our event special exclusively available to attendees. Please see SpringBeautyEvent.com for special offer details.
Additional discount certificates will be given to the first 50 people to arrive (one per household).
Meet our experienced plastic surgeons that have been voted best plastic surgeons by D Magazine. Dr. Denton Watumull, Dr. Bruce Byrne, Dr. Joshua Lemmon or Dr. Robert Kwon are all board certified by the American Board of Plastic Surgery. One or more of our doctors will host a talk on hot topics in plastic surgery during the event.
Botox Cosmetic will be administered by our doctors at the event for $9.00 per unit. Botox removes lines around the mouth and eyes, creases in the forehead, and furrows. You must register at SpringBeautyEvent.com in advance for an appointment with one of our plastic surgeons.
Raffles will be drawn throughout the night on Botox, Juvederm, Radiesse, skincare and laser treatments.
Also meet skincare experts Laura Harris, L.E. and Lisa Bauer, R.M.A. who will be greeting attendees and discussing skin treatments, laser treatments, fillers and neurotoxins.
Our guests will be able to receive discounts on skincare and laser treatment packages from Regional Skin & Laser Center such as laser hair removal, non-invasive fat reduction, skin tightening and SkinPen, one of our newest skin treatments.
Contact Leah, our Cosmetic Surgery Coordinator, for more cosmetic surgery details. (972)470-5000, Ext. 203
Prepare for Spring Contest
Winner will be announced at the Spring Beauty Event and receive three free treatments at
Regional Skin & Laser Center. To enter, see details at SpringBeautyEvent.com