Surgical vs. Non-Surgical Double Chin Reduction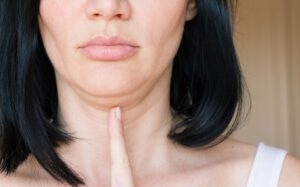 A "double chin" is not always fixable with a healthy diet and exercise; however, there are treatment options available to address this common concern. For some patients, non-surgical and less invasive treatments may be viable options, and they are often preferable because they typically do not require extensive downtime. Others may have needs and goals that can only be successfully addressed with surgery.
Regional Plastic Surgery Center offers multiple options for double chin reduction, both surgical and non-surgical. Our board-certified plastic surgeons can discuss these advanced treatments with you during an initial consultation and help you determine the most ideal solution.
Surgical Double Chin Reduction
Neck Lift
A neck lift is designed to reduce inelastic skin, address lax muscles, and correct signs of aging in the neck, chin, and jawline. The procedure allows for the removal of excess skin and fat deposits, followed by redraping of the remaining skin for firmer and smoother results. Often paired with facelift surgery, a neck lift can help patients achieve exceptional facial rejuvenation and a more youthful appearance.
Liposuction
A very popular procedure, liposuction is intended to slim and contour the targeted area of a patient's body. It can be utilized on multiple body regions, including the chin and neck. During a neck liposuction procedure, a small tube called a cannula is inserted through tiny incisions in the treatment area. Excess fat is gently suctioned out through the cannula, which can ultimately diminish signs of a double chin and produce an improved contour.
Non-Surgical Double Chin Reduction
KYBELLA®
As a non-surgical option, KYBELLA® is an FDA-approved, minimally invasive injectable treatment. It utilizes deoxycholic acid to gradually break down excess fat cells that have collected under the chin. This can result in a more defined profile. KYBELLA® can be a great alternative for patients who struggle with fat buildup underneath the chin and are not ready for a surgical procedure; however, this treatment is usually more ideal for individuals who have only mild to moderate signs of excess fat in the area.
If you're unsure if a surgical or non-surgical procedure is right for you, contact our office to schedule a consultation.