How Can I Get More Cleavage?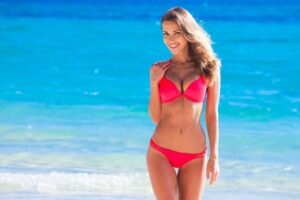 One of the countless advantages of breast enhancement surgery is the chance to feel more confident in the clothing you wear. For many women, this entails an increase or enhancement of the appearance of cleavage. Referring to the tiny gap between a woman's breasts, cleavage is frequently associated with femininity and sensuality, and wearing a dress or top with the desired amount of cleavage can make a woman feel vibrant and voluptuous.
If achieving more cleavage is one of your cosmetic goals, one of our board-certified plastic surgeons may advise you to consider a breast augmentation. In the hands of an experienced breast surgeon, this procedure is extremely customizable; not only do various surgical techniques exist to place and position breast implants, but patients can choose from implants of numerous sizes, shapes, and types (e.g. saline, silicone, or "gummy bear" implants) to create the desired volume and fullness. Our surgeons use durable, high-quality implants to enhance cleavage, increase upper pole fullness, and create a more flattering shape.
Alternatively, our surgeons can accentuate cleavage with breast lift surgery (also known as "mastopexy"). This procedure can provide the "lifted," "perky" effect that many women – particularly those suffering from breast sag (ptosis) – crave. To contour the bustline even more dramatically, we can combine breast augmentation with breast lift in a surgery known as breast augmentation mastopexy (BAM).
No matter the specifics of your breast enhancement surgery, our physicians look forward to helping you achieve the beautiful, natural-looking aesthetic you desire. To schedule a consultation at our practice, please contact us today.