Regional Plastic Surgery Center in Dallas-Fort Worth, TX Now Performing Renuvion® Skin Tightening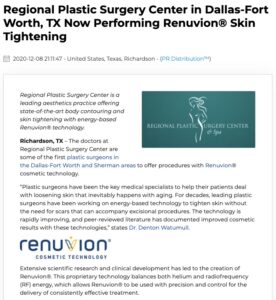 Regional Plastic Surgery Center is a leading aesthetics practice offering state-of-the-art body contouring and skin tightening with energy-based Renuvion® technology.
Richardson, TX – The doctors at Regional Plastic Surgery Center are some of the first plastic surgeons in the Dallas-Fort Worth and Sherman areas to offer procedures with Renuvion® cosmetic technology.
"Plastic surgeons have been the key medical specialists to help their patients deal with loosening skin that inevitably happens with aging. For decades, leading plastic surgeons have been working on energy-based technology to tighten skin without the need for scars that can accompany excisional procedures. The technology is rapidly improving, and peer-reviewed literature has documented improved cosmetic results with these technologies," states Dr. Denton Watumull.
Extensive scientific research and clinical development has led to the creation of Renuvion®. This proprietary technology balances both helium and radiofrequency (RF) energy, which allows Renuvion® to be used with precision and control for the delivery of consistently effective treatment.
The doctors at Regional Plastic Surgery Center use this practice-transforming technology to achieve gentle skin and tissue tightening. To create the desired results, Renuvion® applies energy to soft tissue, which causes coagulation and a contraction effect that can be both immediate and improve over time. This unique technology has received general clearance from the United States Food and Drug Administration (FDA), and has earned multiple international approvals for the cutting, coagulation, and ablation of soft tissue during open surgical procedures.
At Regional Plastic Surgery Center, board-certified plastic surgeons Drs. Watumull, Lemmon, Byrne, Derrick, Rapp, and Mehta can use Renuvion® skin tightening to treat areas of the face and body for smoother, firmer contours and a more youthful appearance. It is common for patients to combine facial rejuvenation procedures and body contouring procedures with Renuvion® to optimize the quality of the final result. Most often, Renuvion® is used to treat the face, neck, abdomen, thighs, chest, and arms.
Dr. Bruce Byrne encourages individuals who are interested in learning more about Renuvion® to contact any of the Regional Plastic Surgery Center offices in the DFW and Sherman area to schedule a consultation. He says that, "With the help of a board-certified plastic surgeon who has experience with and training in the Renuvion® technology, patients considering the procedure can find out if the treatment is right for them and learn more about the results that may be possible."
About Regional Plastic Surgery Center
Drs. Watumull, Lemmon, Byrne, Derrick, Rapp, and Mehta are plastic surgeons practicing at Regional Plastic Surgery Center, which has been operating in Richardson, TX since 1991. They are all certified by the American Board of Plastic Surgery and are members of several professional societies, including the Dallas Society of Plastic Surgeons, American Board of Plastic Surgery, American Society of Plastic Surgeons, American Society for Surgery of the Hand and the American Society of Reconstructive Microsurgery. In addition to Richardson, Regional Plastic Surgery Center also has offices in Rockwall, Dallas, Sherman, and McKinney, and offers a comprehensive selection of both surgical and non-surgical aesthetic options. The physicians provide treatments for the face, breast, and entire body that are tailored to the unique needs of their patients.
For more information about Regional Plastic Surgery Center, please visit create-beauty.com and facebook.com/RegionalPlasticSurgeryCenterSpa.
Contact:
Regional Plastic Surgery Center & Spa
Richardson Office:
3201 E. President George Bush Hwy., Ste. 101
Richardson, TX 75082
(972) 470-5000
Rockwall Office:
1407 Ridge Road, Ste. 101
Rockwall, TX 75078
(972) 470 – 1000
Dallas Office:
12222 North Central Expy., Ste. 250
Dallas, TX 75243
(972) 470-5000
Sherman Office:
1111 E. Sara Swamy Dr.
Sherman, TX 75090
(903) 893 – 6311
McKinney Office:
5236 West University Dr.
Physician Building 1, Ste. 3600
McKinney, TX 75071
(972) 470-5000
Rosemont Media
(858) 200-0044
www.rosemontmedia.com