Regional Plastic Surgery Center Surgeons Named Best Doctors in 2020 Dallas List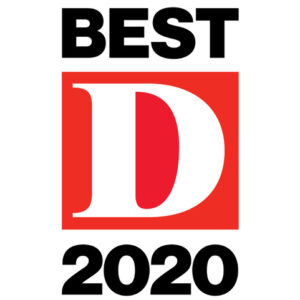 Regional Plastic Surgery Center is proud to announce that four of our six practicing plastic surgeons have been named to the Best Doctor list by D Magazine. Drs. Denton Watumull, Joshua Lemmon, Bruce Byrne, and Chase Derrick were chosen for this special award for 2020.
The list of Best Doctors uses a peer voting process. This year, D Magazine contacted 7,696 local doctors, inviting them to vote using an online ballot. These doctors could vote for up to three doctors in each category. They were instructed to cast their votes by answering the following question – "Which Dallas doctors would you trust with the care of a loved one?" The scores were tallied, and finalists were chosen by highest count. Once the list was finalized, D Magazine confirmed each doctor's Texas medical license, board-certification, and any disciplinary issues.
Over the years, Dr. Watumull has been nominated fifteen (15) times for this award, while Drs. Lemmon and Byrne have been nominated twelve (12) and eight (8) years consecutively. This is Dr. Derrick's first nomination, and we hope that is the first of many to come! We are extremely happy for our physicians, as they truly deserve this prestigious nomination.
Congratulations!!
Read the full write-up as seen in D Magazine:
"At Regional Plastic Surgery Center & Spa, board-certified plastic surgeons Drs. Denton Watumull, Bruce Byrne, Joshua Lemmon, and Chase Derrick combine medical expertise with tailored solutions and cutting-edge technology for outstanding results. Founded in 1991, Regional Plastic Surgery Center & Spa is one of the largest plastic surgery groups in Dallas and provides care for patients throughout the DFW area, with locations and surgical facilities in Richardson, Rockwall, McKinney, and Sherman. All four physicians possess certification by the American Board of Plastic Surgery. With specialties in a variety of cosmetic, reconstructive, and hand surgeries – the doctors at Regional Plastic Surgery Center offer safe and innovative medical procedures that focus on treating the whole patient while creating their perfect look. Dr. Lemmon believes that "patient safety and a personalized approach is our primary goal." Dr. Derrick adds, "We practice a collaborative approach with each and every patient. We are members of your team assisting you in achieving the results you desire." Dr. Byrne says, "Patient experience, from initial consult through recovery, is paramount. We want to truly understand and achieve the patients' wishes, not oversell our procedures. We strive to exceed expectations and achieve long-lasting results." Finally, Dr. Watumull adds, "Our physicians continue to pursue new techniques that are less invasive, which decrease downtime and recovery. For example, we are one of a select few groups that can offer Renuvion®, which is a fantastic alternative to heavier procedures."
With the Certification of Added Qualification in Hand Surgery, our doctors offer additional solutions for surgeries of the hands and upper extremities, including carpel tunnel, endoscopic surgery, and joint pain diagnosis. The RPSC Hand Surgery Center has a full solution from consult to rehabilitation. You can find out more at regionalhandsurgery.com.
Our award-winning medical spa, Regional Skin & Laser, provides nonsurgical treatments such as injectables, facials, laser hair removal, customized facials, and skincare plans. Our experts are supervised by the board-certified plastic surgeons of Regional Plastic Surgery Center. You can find out more at regionalskinlaser.com.
Regional Plastic Surgery Center is comprised of six, fellowship-trained plastic surgeons board-certified by the American Board of Plastic Surgery. They are also active members of the American Society of Plastic Surgeons.
**The team at Regional Plastic Surgery Center and Spa is taking every precaution necessary to protect patients during the COVID-19 pandemic by following all CDC and local recommendations. Please see our website for a detailed list of current measures."
To schedule a consultation with one of our award-winning plastic surgeons, please contact Regional Plastic Surgery Center.
View the D Magazine directory listings for Dr. Watumull, Dr. Byrne, and Dr. Derrick.