Dallas Plastic Surgeons Respond to Frequently Asked Questions on Breast Augmentation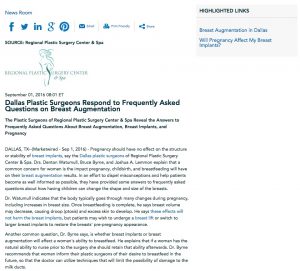 The plastic surgeons of Regional Plastic Surgery Center & Spa reveal the answers to frequently asked questions about breast augmentation, breast implants, and pregnancy.
Dallas, TX — Pregnancy should have no effect on the structure or stability of breast implants, say the Dallas plastic surgeons of Regional Plastic Surgery Center & Spa. Drs. Denton Watumull, Bruce Byrne, and Joshua A. Lemmon explain that a common concern for women is the impact pregnancy, childbirth, and breastfeeding will have on their breast augmentation results. In an effort to dispel misconceptions and help patients become as well informed as possible, they have provided some answers to frequently asked questions about how having children can change the shape and size of the breasts.
Dr. Watumull indicates that the body typically goes through many changes during pregnancy, including increases in breast size. Once breastfeeding is complete, he says breast volume may decrease, causing droop (ptosis) and excess skin to develop. He says these effects will not harm the breast implants, but patients may wish to undergo a breast lift or switch to larger breast implants to restore the breasts' pre-pregnancy appearance.
Another common question, Dr. Byrne says, is whether breast implants or breast augmentation will affect a woman's ability to breastfeed. He explains that if a woman has the natural ability to nurse prior to the surgery she should retain that ability afterwards. Dr. Byrne recommends that women inform their plastic surgeons of their desire to breastfeed in the future, so that the doctor can utilize techniques that will limit the possibility of damage to the milk ducts.
Dr. Lemmon adds that every patient's pregnancy experience will be unique, and the changes she goes through may be different from what another woman encounters. He advises women considering breast augmentation to seek out a board certified plastic surgeon with extensive training in breast surgery to discuss their cosmetic goals. Dr. Lemmon notes that a qualified plastic surgeon will customize the operation to best suit the needs and desired outcome of the individual.
About Regional Plastic Surgery Center & Spa
Founded by Dr. Denton Watumull, Regional Plastic Surgery Center & Spa is comprised of a team of award-winning plastic surgeons, including Dr. Watumull, Dr. Bruce Byrne, and Dr. Joshua Lemmon. The practice, which has locations in Dallas, Rockwall, Las Colinas, and Richardson, offers a comprehensive range of surgical and non-surgical aesthetic and reconstructive procedures for the face, breasts, and body. All three physicians are certified by the American Board of Plastic Surgery, and they each hold a Certificate of Added Qualification in Surgery of the Hand.
For more information about Regional Plastic Surgery Center & Spa, please visit create-beauty.com.
Contact:
Regional Plastic Surgery Center & Spa
Richardson Office:
3201 E. President George Bush Hwy., Ste. 101
Richardson, TX 75082
(972) 470-5000
Rockwall Office:
1407 Ridge Rd., Ste. 101
Rockwall, TX 75087
(972) 470-1000
Las Colinas:
6750 N. MacArthur Blvd., Ste. 257
Irving, TX 75039
(972) 470-5000
Dallas Office:
12222 North Central Expwy., Ste. 250
Dallas, TX 75243
(972) 470-5000
Rosemont Media
(858) 200-0044
www.rosemontmedia.com