Dallas Plastic Surgeons Dispel Common Breast Lift Misconceptions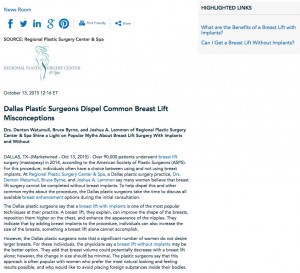 Drs. Denton Watumull, Bruce Byrne, and Joshua A. Lemmon of Regional Plastic Surgery Center & Spa shine a light on popular myths about breast lift surgery with implants and without.
Dallas, TX — Over 90,000 patients underwent breast lift surgery (mastopexy) in 2014, according to the American Society of Plastic Surgeons (ASPS). For this procedure, individuals often have a choice between using and not using breast implants. At Regional Plastic Surgery Center & Spa, a Dallas plastic surgery practice, Drs. Denton Watumull, Bruce Byrne, and Joshua A. Lemmon say many women believe that breast lift surgery cannot be completed without breast implants. To help dispel this and other common myths about the procedure, the Dallas plastic surgeons take the time to discuss all available breast enhancement options during the initial consultation.
The Dallas plastic surgeons say that a breast lift with implants is one of the most popular techniques at their practice. A breast lift, they explain, can improve the shape of the breasts, reposition them higher on the chest, and enhance the appearance of the nipples. They indicate that by adding breast implants to the procedure, individuals can also increase the size of the breasts, something a breast lift alone cannot accomplish.
However, the Dallas plastic surgeons note that a significant number of women do not desire larger breasts. For these individuals, the physicians say a breast lift without implants may be the better option. They add that breast volume could potentially decrease with a breast lift alone; however, the change in size should be minimal. The plastic surgeons say that this approach is often popular with women who prefer the most natural looking and feeling results possible, and who would like to avoid placing foreign substances inside their bodies.
Ultimately, the Dallas plastic surgeons wish to emphasize that patients who desire firmer, shapelier, and more youthful-looking breasts can typically achieve their cosmetic goals with or without breast implants. They encourage patients considering breast lift surgery to speak with a board certified plastic surgeon with extensive experience performing this procedure—one who is skilled in both techniques.
About Regional Plastic Surgery Center & Spa
Equipped with state-of-the-art facilities, Regional Plastic Surgery Center & Spa has five practice locations serving the Richardson, Rockwall, Irving, McKinney, and Dallas, Texas area. The comprehensive selection of advanced cosmetic and reconstructive procedures includes surgical and non-surgical treatments for the face, breasts, body, and skin. The three-physician medical team includes: Dr. Denton Watumull, Dr. Bruce Byrne, and Dr. Joshua A. Lemmon. Each plastic surgeon is certified by the American Board of Plastic Surgery and holds a Certificate of Added Qualification in Surgery of the Hand.
For more information about Regional Plastic Surgery & Spa, please visit create-beauty.com and facebook.com/Regional-Plastic-Surgery-Center-Spa-226603736654.
Contact:
Regional Plastic Surgery Center & Spa
Richardson Office:
3201 E. George Bush Fwy., Ste. 101
Richardson, TX 75082
(972) 470-5000
Rockwall Office:
1407 Ridge Rd., Ste. 101
Rockwall, TX 75087
(972) 470-1000
Las Colinas:
6750 N. MacArthur Blvd., Ste. 257
Irving, TX 75039
(972) 401-0867
Dallas Office:
12222 North Central Expwy., Ste. 250
Dallas, TX 75243
(972) 470-5000
McKinney Office:
5236 W. University Dr., Suite 2900
McKinney, TX 75071
(972) 470-5000
Rosemont Media
(858) 200-0044
www.rosemontmedia.com