Dallas Plastic Surgeons Discuss Benefits of Combining Facial Procedures and Treatments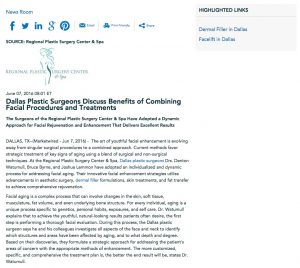 The surgeons of the Regional Plastic Surgery Center & Spa have adopted a dynamic approach for facial rejuvenation and enhancement that delivers excellent results.
Dallas, TX – The art of youthful facial enhancement is evolving away from singular surgical procedures to a combined approach. Current methods favor strategic treatment of key signs of aging using a blend of surgical and non-surgical techniques. At the Regional Plastic Surgery Center & Spa, Dallas plastic surgeons Drs. Denton Watumull, Bruce Byrne, and Joshua Lemmon have adopted an individualized and dynamic process for addressing facial aging. Their innovative facial enhancement strategies utilize advancements in aesthetic surgery, dermal filler formulations, skin treatments, and fat transfer to achieve comprehensive rejuvenation.
Facial aging is a complex process that can involve changes in the skin, soft tissue, musculature, fat volume, and even underlying bone structure. For every individual, aging is a unique process specific to genetics, personal habits, exposures, and self care. Dr. Watumull explains that to achieve the youthful, natural-looking results patients often desire, the first step is performing a thorough facial evaluation. During this process, the Dallas plastic surgeon says he and his colleagues investigate all aspects of the face and neck to identify which structures and areas have been affected by aging, and to what depth and degree. Based on their discoveries, they formulate a strategic approach for addressing the patient's areas of concern with the appropriate methods of enhancement. The more customized, specific, and comprehensive the treatment plan is, the better the end result will be, states Dr. Watumull.
When devising a facial rejuvenation strategy, the surgeons of Regional Plastic Surgery Center & Spa consider every surgical and non-surgical option to deliver the greatest degree of enhancement. Dr. Byrne says that, often, the most natural-looking results are achieved with a combination of complementary procedures designed to simultaneously address a variety of concerns. This can involve conducting eyelid surgery and/or brow lift in conjunction with a facelift, he notes, or performing laser resurfacing at the same time as a particular facial treatment to address surface lines and wrinkles. In addition, he explains that fat grafting can be combined with many procedures to help restore volume around the cheeks, lower eyes, temples, and various other delicate areas that are hallmarks of a youthful face.
In the end, Dr. Lemmon states that the approach ultimately used seeks to treat all of the key facial concerns that contribute to the patient's aging appearance. The rejuvenation process is entirely customized based upon the cosmetic needs and goals of the patient, he says, and the number of versatile treatment options available can help them achieve a more youthful appearance with exceptionally natural-looking results.
About Regional Plastic Surgery Center & Spa
The team of award-winning plastic surgeons at Regional Plastic Surgery Center & Spa is comprised of Dr. Denton Watumull (founder), Dr. Bruce Byrne, and Dr. Joshua Lemmon. With four offices located throughout the Dallas-Fort Worth area, the practice offers a full range of cosmetic and reconstructive surgery procedures for the face, body, and breasts, in addition to a complete array of medi-spa skin treatments and therapies. Each of the surgeons at Regional Plastic Surgery Center & Spa is certified by The American Board of Plastic Surgery and holds a Certificate of Added Qualification in Surgery of the Hand.
For more information about Regional Plastic Surgery & Spa, please visit create-beauty.com and facebook.com/RegionalPlasticSurgeryCenterSpa.
Contact:
Regional Plastic Surgery Center & Spa
Richardson Office:
3201 E. President George Bush Hwy., Ste. 101
Richardson, TX 75082
(972) 470-5000
Rockwall Office:
1407 Ridge Rd., Ste. 101
Rockwall, TX 75087
(972) 470-1000
Las Colinas:
6750 N. MacArthur Blvd., Ste. 257
Irving, TX 75039
(972) 470-5000
Dallas Office:
12222 North Central Expwy., Ste. 250
Dallas, TX 75243
(972) 470-5000
Rosemont Media
(858) 200-0044
www.rosemontmedia.com