What to Expect After Facelift Surgery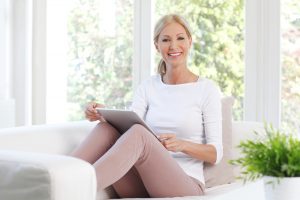 With today's advanced surgical techniques, the recovery after facelift surgery may be less strenuous than you might expect. When you undergo facelift with one of our skilled plastic surgeons at Regional Plastic Surgery Center & Spa, you can expect that your procedure will be handled with the utmost care and attention to detail. This includes achieving the greatest amount of enhancement with the least amount of downtime. Typically, facelift patients require about two to three weeks of recovery time before they are ready to fully resume their regular day-to-day schedules. It is important to note, however, that the amount of bruising, swelling and downtime can vary from patient to patient, depending on the extent of the procedure and the individual's unique physiological characteristics. Also, patients that simultaneously combine facelift with other facial procedures, such as eyelid lift or brow lift, may experience a more extended recovery.
After facelift, it is vital to the success of your recovery to closely follow the post-operative instructions given by your surgeon. These carefully formulated directives have been developed over years of experience and can help facilitate swift and proper healing. Your surgeon will detail all aspects of the recovery process before the procedure to ensure that you fully understand the process ahead. Furthermore, our supportive team at Regional Plastic Surgery Center & Spa is always available to take your calls during the recovery phase to answer any questions you may have, or connect you with your surgeon. Attending your post-operative appointments is imperative, as it allows your surgeon to keep a close watch on your progress and suggest additional care instructions that may apply to your individual recovery process.
Ultimately, you are in excellent hands throughout every stage of your facelift procedure at Regional Plastic Surgery Center & Spa. From the initial consultation to recovery, we take pride in providing the highest quality patient care and helping our patients safely achieve their cosmetic goals.