Breast Lift or Breast Augmentation—Which is Right for Me?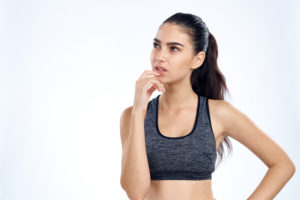 At Regional Plastic Surgery Center, our board-certified plastic surgeons offer a wide range of cosmetic and reconstructive breast surgeries to help women enhance and/or restore the appearance of their breasts. For women who desire larger, shaplier breasts, breast augmentation surgery is generally a good option for achieving the results they desire. During a breast augmentation, our surgeons surgically place breast implants below the chest muscle in order to secure the implant for a long-lasting, natural-looking change in size, shape, cleavage, symmetry, and/or firmness of the breasts.
While breast augmentation can visibly transform many cosmetic aspects of the breasts, our surgeons typically recommend a different breast procedure—called a breast lift (mastopexy)—when women are interested in correcting the drooping appearance of their breasts with surgery. Whether the result of breastfeeding, significant weight fluctuation, genetics, or simply aging, drooping breasts can be elevated and reshaped with a customized breast lift procedure. During a breast lift, excess skin is removed and the breast mound is reformed higher up on the chest wall. Additionally, the areolar complex (the areola and nipple) can be reshaped and repositioned to complement the lifted breast if necessary. When breast lift candidates are also interested in restoring diminished breast volume or enhancing the size and shape of their breasts, the placement of breast implants can be combined with the surgery, making the procedure a breast lift with augmentation (or breast augmentation mastopexy).
If you are considering cosmetic breast surgery to improve the appearance of your breasts, you may be wondering whether a breast augmentation, breast lift, or a combination of the two is right for you. To determine the type of breast surgery you can benefit from most, we highly recommend that you contact Regional Plastic Surgery Center to schedule a complimentary cosmetic consultation with one of our experienced plastic surgeons. During this appointment, your surgeon can examine your breasts, talk with you about the changes you'd like to make, and devise a customized surgical plan designed to deliver optimal results.