Is It Time for My Mommy Makeover?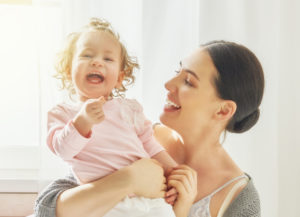 Many women wonder when it's time to start discussing plans for a mommy makeover with a plastic surgeon. While society tends to have a preoccupation with quickly "bouncing back" after having a baby, the reality is that many women's bodies need time to recover and adapt to the many physical changes that can occur in early motherhood. Even though you may be eager to get your figure back very soon after childbirth, the majority of reputable board-certified plastic surgeons will suggest that you wait until your body has fully healed and stabilized. Our plastic surgeons at Regional Plastic Surgery Center agree that performing surgery while your breasts and body shape are still evolving isn't the best way to attain an optimal outcome.
Once women have stopped breastfeeding and achieved a stable weight (not necessarily the pre-baby weight)—which usually occurs a bare minimum of six months after giving birth—it may be helpful to schedule a personal consultation with one of our plastic surgeons. During this appointment, you can discuss your concerns and goals, as well as receive a comprehensive physical and aesthetic evaluation. Ideal candidates for a mommy makeover are typically women who are in good overall health, have fully healed from childbirth, reached a stable weight, are not planning to have more children in the future, and have reasonable expectations for the outcome of the surgery. Each woman is different, and the results of every consultation are unique. While some women find that waiting a bit longer is recommended, others are ready to proceed with surgery soon after their initial appointment. You can trust that our plastic surgeons will always answer your questions honestly and provide you with recommendations that have your safety and ultimate satisfaction in mind.
If you are curious about the mommy makeover process and want to find out if the time is right for you to restore your pre-baby figure, we encourage you to contact us at Regional Plastic Surgery Center to schedule your consultation.