Last Week to Register for Our Fall Beauty Event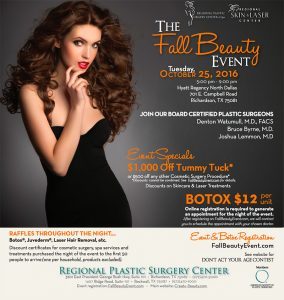 The night of our Fall Beauty Event is almost here! The event will take place on Tuesday, October 25, from 5:00-9:00 pm at the Hyatt Regency North Dallas in Richardson, TX. All three of our board-certified plastic surgeons, Dr. Denton Watumull, Dr. Bruce Byrne, and Dr. Joshua Lemmon, will be presenting new information about multiple cosmetic surgery procedures including dynamic new technology in plastic surgery of the body and face.
Most importantly, remember about the discount pricing we are offering at the event for cosmetic surgery, including $1,000 off a tummy tuck or $500 off any other cosmetic procedure. If you have pre-registered for the event and requested a BOTOX® Cosmetic appointment, Drs. Watumull, Byrne, and Lemmon will also be administering BOTOX® Cosmetic at the special discounted price of $12.00 per unit.
As an added bonus, any skincare products that are pre-ordered by phone can be picked up at the event for 30% off. To take advantage of this offer, please call our med spa, Regional Skin & Laser Center, by Thursday, October 20 at (972) 470-5012. Skincare products available for pre-order include ZO® Skin Health, eraclea®, Physicians Choice (PCA Skin®), EltaMD®, MDRejuvena™, Revision®, Oxygenetix® makeup, gloMinerals®, and RevitaLash®. You also have the option to order discounted products at the event for pick-up at a later date.
Also remember to post your pictures on our Facebook page to enter our Don't Act Your Age Contest for a chance to win three free facial treatments. Be sure to use the hashtags #dontactyourage and #fallbeautyevent when you post silly pictures of you looking younger than you actually are!