Drs. Lemmon & Derrick Named "Best Doctors in Collin County" for 2021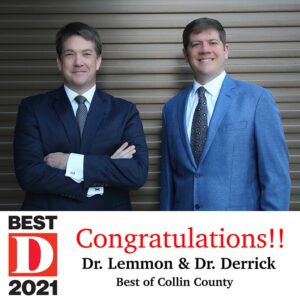 Regional Plastic Surgery Center is proud to announce that Dr. Joshua Lemmon and Dr. Chase Derrick, two of our board-certified plastic surgeons, have been named the "Best Doctors in Collin County – 2021" by D Magazine.
The list of "Best Doctors" uses a peer voting process. D Magazine contacts local doctors, inviting them to vote using an online ballot. These doctors could vote for up to three doctors in each category. They were instructed to cast their votes by answering the following question – "Which Collin County doctors would you trust with the care of a loved one?" The scores were tallied, and finalists were chosen by highest count. Once the list was finalized, D Magazine confirmed each doctor's Texas medical license, board-certification, and any disciplinary issues.
This is Dr. Derrick's first nomination and Dr. Lemmon's seventh. We are extremely happy for our physicians, as they truly deserve this prestigious nomination.
Congratulations!!
Read the full write-up as seen in D Magazine:
"Board-certified plastic and cosmetic surgeons Drs. Joshua Lemmon and Chase Derrick offer a comprehensive selection of surgical and non-surgical cosmetic and reconstructive options. Whether you desire a single, minimally invasive facial rejuvenation procedure or a full body transformation, they provide a broad array of treatments for the face, body and breasts, each tailored to the unique anatomical needs and aspirations of our patients.
Dr. Derrick says "I practice a collaborative approach with each and every patient. I am a member of your team assisting you in achieving the results you desire." Recognizing that discussing aesthetic concerns and personal details can be intimidating, Dr. Lemmon emphasizes, "My staff and I strive for an individual, down-to-earth, and compassionate approach to each patient."
Utilizing the latest technology, state-of-the-art techniques, and an artistic sensibility, Drs. Lemmon and Derrick create customized, natural-looking results that enhance existing beauty and elevate self-regard. They understand patient comfort and trust is paramount and strive to provide an attentive, caring, and exceptional experience from consultation through recovery.
To schedule a consultation with one of our award-winning plastic surgeons, please contact Regional Plastic Surgery Center.
Click on the names to view the D Magazine directory listings for Dr. Chase Derrick and Dr. Joshua Lemmon.