THERMAGE CPT™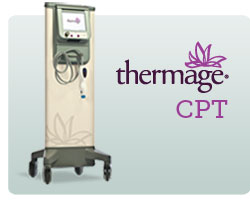 Our med spa, Regional Skin & Laser Center introduces breakthrough THERMAGE CPT™ SYSTEM, a non-invasive skin-tightening and body contouring technology for enhanced clinical results and increased patient comfort.
Thermage CPT(TM) system, representing a significant leap forward in skin tightening and body contouring technology. The Thermage CPT system incorporates a new ergonomic vibrating hand piece and scientifically advanced treatment tips that increase patient comfort.
"Thermage utilizes best-in-class radiofrequency technology and now, with the introduction of the Thermage CPT, delivers more therapeutic heat across the treatment area, allowing for a more efficient skin tightening treatment," said Roy Geronemus, MD, director of the Laser & Skin Surgery Center of New York and past president of the American Society for Laser Medicine & Surgery. "My patients ask for Thermage by name and it is my #1 choice for non-surgical skin tightening."
To see if this breakthrough technology is right for you, we encourage you to contact us at our brand new state-of-the-art Med Spa at 972-470-5012.
For more information on Thermage CPT, visit www.thermage.com.