Tips to Make Mommy Makeover Recovery Easier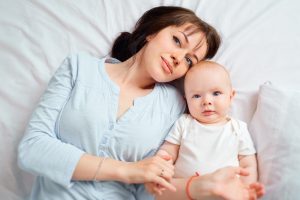 Now that school is back in session, many mothers are taking some much deserved time for themselves. Often, mothers considering mommy makeovers to regain their pre-pregnancy figure, choose to schedule procedures at the start of fall, when they have more time to rest and recover.
In most cases, a mommy makeover combines several surgical procedures, which may include abdominoplasty (tummy tuck), liposuction, breast augmentation, or breast lift surgery. Since mommy makeover patients must recuperate from multiple procedures simultaneously, it is particularly important to prepare ahead to facilitate a smoother recovery. Our plastic surgeons recommend these simple tips to improve downtime immediately following surgery:
Have a family member or friend available to assist you during the first 24 hours after the procedure.
Since mommy makeover patients shouldn't lift anything over a few pounds, mothers with small children should arrange for significant help with childcare for the first 3-4 weeks.
Have a support system in place to assist in driving kids to their daily activities, making meals, and cleaning your home.
Avoid all heavy lifting and strenuous exercise for the first six weeks.
Wear a surgical bra to minimize post-operative swelling after breast augmentation or breast lift.
Wear an abdominal binder to aid in healing from tummy tuck surgery.
If swelling, redness, pain, or other signs of discomfort increase, contact your plastic surgeon immediately.
If you are considering a mommy makeover, you can contact Regional Plastic Surgery Center to schedule a consultation with one of our plastic surgeons.