QWO® Cellulite Treatment
Regional Plastic Surgery Center and all of our board-certified plastic surgeons and nurse injectors are thrilled to announce the addition of an exciting new injectable product, QWO®, to our offering of non-surgical treatments. In clinical trials, QWO has been shown to help women reduce the appearance of moderate to severe cellulite in the buttock region for smoother looking skin.
To learn more about QWO, how it works, and whether you are a good candidate for treatment, we invite you to explore the informative sections below and to schedule a consultation at one of our many locations throughout the Dallas-Fort Worth and Texoma regions. Regional Plastic Surgery Center and Regional Skin & Laser Center are among a few select practices in the area with access to and training in QWO, so make sure to schedule your appointment for this popular treatment soon!
What Is QWO®?
QWO is the first and only injectable treatment FDA-approved for the reduction of cellulite. Specifically, QWO is approved only to treat moderate to severe cellulite in the buttock region for adult women. Enzymes called collagenases comprise the active ingredients in QWO, and it is believed that they specifically target and release the fibrous bands that are primarily responsible for the appearance of prominent cellulite. QWO is also thought to redistribute fat and stimulate delicate collagen fiber production. To accomplish cellulite reduction, QWO is injected into the tissue below cellulite dimpling to produce a smoothing effect. Over ten weeks and repeated treatment sessions—three sessions spaced three weeks apart are recommended for optimal results—patients in clinical trials were able to achieve visible improvments (assessed at 28 days after the final treatment).
What Causes Cellulite?
While you may think that cellulite is caused by the quantity of fat a person has, this is untrue. Instead, the presence of cellulite is largely determined by factors including genetics, fat distribution, thinner skin, and/or enlarged fat cells. Even individuals with low body fat can be affected by severe cellulite! For women, cellulite is typically prevalent in the lower body, specifically the buttocks and thighs. To reduce cellulite, QWO acts on the structural causes of dimpling and lumpy texture—the fibrous bands that connect fat, muscle, and skin and tug at the skin's surface, as well as fat cells that create pressure beneath the skin. Although cellulite is not dangerous or indicative of medical problems, it is one of the most common cosmetic concerns that women who come to our office wish to correct. Now, with QWO, cellulite can be treated effectively and non-surgically for smoother buttocks.
What Happens During QWO® Treatment?
Before receiving injections of QWO to treat cellulite, a consultation with one of our experienced, board-certified plastic surgeons is required. During this appointment, you will have the opportunity to discuss your cosmetic concerns, detail your medical history (including allergies, all medications you are taking, and pregnancy status), and receive an assessment of your cellulite. After a full evaluation, your plastic surgeon and/or nurse injector can determine if QWO is well-suited for your needs and goals.
Your QWO treatment sessions will be performed in one of our offices and the process typically takes about 10 minutes to complete. Injections are placed into the tissue below the areas of cellulite on your buttocks. In clinical trials, patients did not report the need for downtime following their treatment, so it is likely you may feel comfortable returning to your usual activities right away. Three weeks (21 days) after your first treatment session, you will be instructed to return for your second round of injections. Similarly, your third and final session will be scheduled for three weeks after your second treatment.
Book your appointment at Regional Skin & Laser today to see if QWO® is right for you.
Are There Side Effects from QWO® Treatment?
As no aesthetic treatment is without risks and potential complications, it is important that all patients considering and receiving QWO understand the possible side-effects that have been identified in clinical trials. Serious side effects may include allergic (hypersensitivity) reactions, including anaphylaxis and injection site bruising. For most individuals, bruising lessened after each treatment and resolved in under 21 days. The most common side effects experienced by patients in clinical trials included injection site bruising, pain, areas of hardness, itching, redness, discoloration, swelling, and warmth in the treatment area.
If you experience any problems after your treatment, you are encouraged to contact RPSC as soon as possible. Generally speaking, most issues that arise are mild and temporary; however, more serious reactions to QWO injections may require prompt medical assistance.
What Results Can I Expect After QWO® Treatment?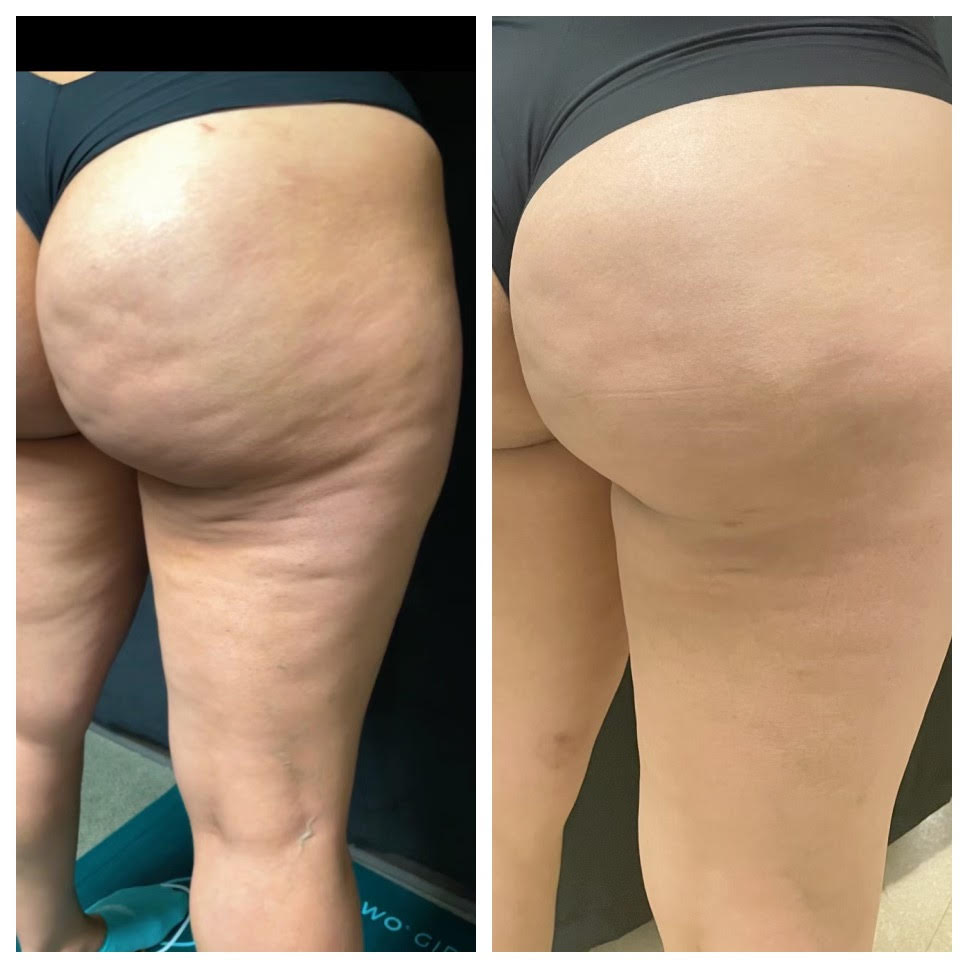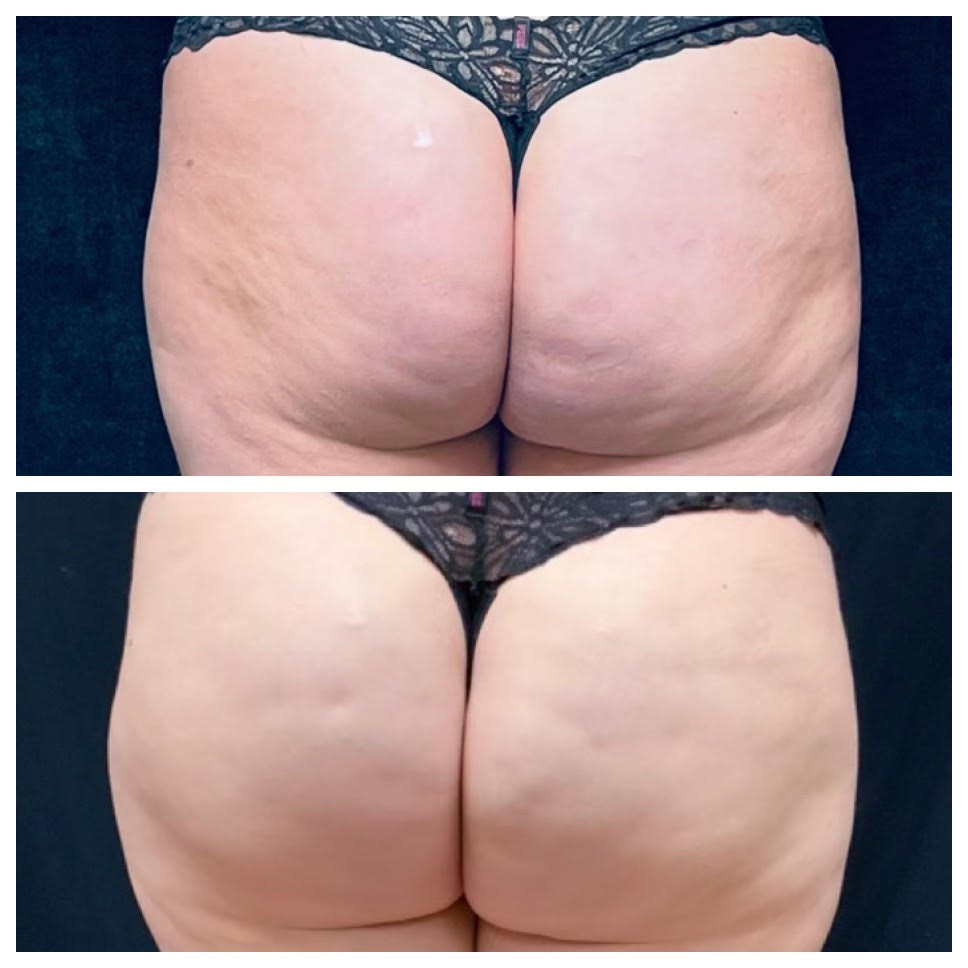 Within 28 days after your final session, the results of your QWO treatment series should start becoming evident. As healing progresses, the buttocks generally become smoother, and dimpling can appear less pronounced. It may take up to 10 weeks for the final outcome of treatment to be revealed.
To schedule your appointment, contact Regional Skin & Laser today!